All songs were performed August 21, 2009 in the campground of the Philadelphia Folk Fest after the Decemberists' performance that night on the Martin Stage. We crossed paths and setup the jam right where we met at the crossroads by the "top of the world" bus.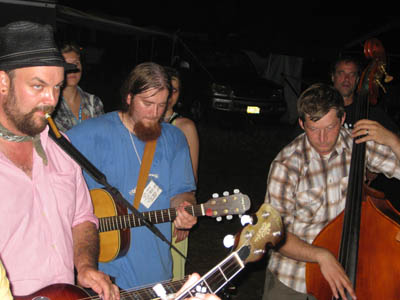 It was a privilege to play with Chris Funk (Dobro), Jenny Conlee(Accordian), and Nate Query (BassFiddle) of the Decemberists. It was an honor to play on of my tunes with them. The crowd began to form and before long we were stirring up folk roots with the aid of the players in the campground!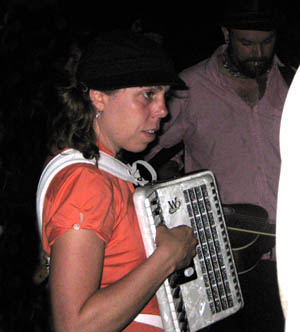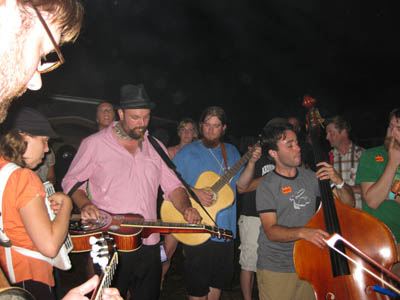 Some of the performers were Brad, from the Roost campsite, Chicken Shack Jack and Kiley Ryan of Wissahickon Chick Shack, Myself (JayMage) and many others on banjo, mandolin, fiddle, guitars, and so on...Please email with any more information you may have to add...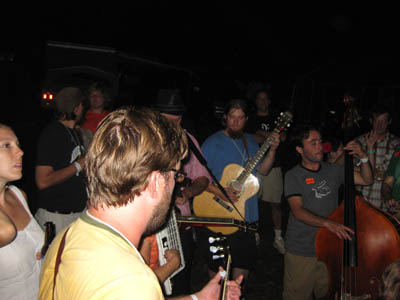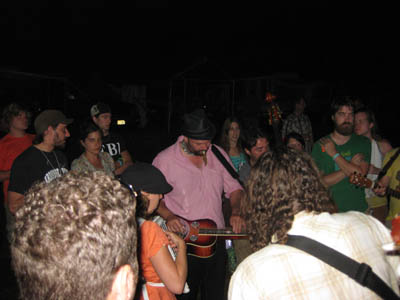 The Songs
Miss Melody - Song written by Jay Mage out of South Jersey
Little Maggie - traditional appalacian song originating in late 1800s. Attributed to Darling Cory, earliest recording in 1928 by Grayson and Whitter
Apple - Apple is somewhere in the name ?
Who Broke the Lock (on the Henhouse Door) - traditional originating prior to 1900
Blue Grass Banter - Some rabble between songs
Late Last Night when Billy Came Home - traditional
Greenback Dollar - written by: Hoyt Axton, Ken Ramsey ; early recording 1933 by Clarence Ashley
I am a Pilgrim - traditional folk spiritual
She's been Gone - classic song written by Jay Mage
Dark Hollow - written by the Grateful Dead
Love Please Come Home
- Leon Jackson 1957
Carry Round this Door
- unknown - i believe this performer wrote the song, but have no idea - I like it, email me if you know! I will glady update
Grace Cathedral Hill
- written by the Decemberists
Circle Round the Sun
- written by Will Shade and recorded in 1928 by Memphis Jug Band
Goodnight Irene
- The song is often credited to Leadbelly, but he apparently learnt it from his uncle Tyrell Leadbetter. It seems to have been written by Gussie L Davis in the late 19th century.
Hickory Moon
- Traditional
I Am A Cinematographer
- written by Will Oldham
Summer Time
- written by George Gershwin - popularized by many artists
New Speedway Boogie
- written by Grateful Dead
Will the Circle Be Unbroken
- folk hymn